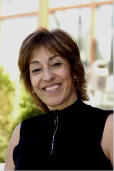 LAURA BATISTA
LAURA BATISTA – Kanada/Meksyk • Canada/Mexico • Kanada/Mexiko
Dr. Laura Batista is a veterinarian from the National University of Mexico. She also has a PhD from the University of Minnesota under the direction of Drs. Carlos Pijoan and Scott Dee and a Diplomate from CONEVET, Mexico. Since 1990, she is the director of Batista, Racine & Asociés a consulting firm specialized in control and elimination of swine diseases, farm management, reproduction and record analysis. She was a professor and researcher at the University of Montreal and now is a co-researcher with CDPQ and U Laval in Quebec, Canada. As well as Chair of PRRS and Emerging Diseases Committee for AMVEC, Mexico, OIE's Mexico representant for the PED ad hoc group, and member of the AASV PRRS Task Force. Her research interests are PRRS, PED, pathogen airborne transmission, air filtration, biosecurity and swine reproduction. Dr. Batista is author of several research and production articles, two swine book chapters, and has received several recognitions for her contribuitions to Mexico's and the global swine industry.
---
Dr Laura Batista jest lekarzem weterynarii z National University of Mexico. Posiada tytuł doktora z University of Minnesota, uzyskany pod kierunkiem dr Carlosa Pijoan i dr Scotta Dee oraz Diplomate z CONEVET, Meksyk. Od 1990 roku jest dyrektorem Batista, Racine & Asociés firmy konsultingowej specjalizującej się w kontroli i zwalczaniu chorób świń, zarządzaniu fermami, reprodukcją i analizą wyników. Była profesorem i pracownikiem naukowym w University of Montreal, obecnie współpracuje z CDPQ and U Laval w Quebec, Kanada. A także przewodnicząca PRRS and Emerging Diseases Committee for AMVEC, Meksyk, przedstawiciel OIE z Meksyku grupy ad hoc zajmującej się PED i członek AASV PRRS Task Force. Głównymi obszarami jej zainteresowań są PRRS, PED, przenoszenie patogenów drogą powietrzną, filtracja powietrza, bioasekuracja oraz rozród świń. Dr Batista jest autorem wielu artykułów, rozdziałów dwóch książek oraz otrzymała kilka wyróżnień za jej wkład w meksykański i światowy przemysł trzody chlewnej.
---
Dr. Laura Batista ist Tierärztin von der Nationalen Universität Mexikos. Sie hat auch ein PhD von der Universität von Minnesota unter der Direktion von Dr. Carlos Pijoan und Dr. Scott Dee und ein Diplom von CONEVET, Mexiko. Seit 1990 ist Sie Direktorin in der Consulting Firma Batista, Racine & Asociés, die sich in der Kontrolle und Elimination von Schweinekrankheiten, Landwirtschaftsmanagement, Reproduktion und Leistungsanalyse spezialisiert. Sie war Professorin und Forscherin an der Uni Montreal und ist jetzt Co-Forscherin bei CDPQ und U Laval in Quebec, Kanada. Sie ist auch Vorsitzende des PRRS-Komitees und des Komitees für Aufkommende Krankheiten für AMVEC, Mexiko, OIE´s Mexico Repräsentantin für die PED ad hoc Gruppe und Mitglied der AASV PRRS Task Force. Ihr Forschungsschwerpunkt sind PRRS, PED, pathogene die durch Luft verbreitet werden, Luftfiltration, Biosicherheit und Schweinereproduktion. Dr. Batista ist Autorin mehrerer Forschungs- und Produktartikeln, Mitautorin von zwei Schweinebüchern und hat mehrere Auszeichnungen für Ihre Beiträge in Mexikos und der globalen Schweineindustrie.
****************************************************************************************
PRRS, PED PCV2, and SIV: how can we improve our support to the swine industry?
Globalization, the increased movement of people, swine, supplies, and food pose growing risks to the swine industry. There is no single successful strategy for control of all these viral and emerging diseases. However, we have many answers and options which will be presented in the form of nine "non-negotiables" so practitioners, producers, diagnosticians and research workers continue to objectively expand their knowledge, communicate and network to better control and eventually eliminate these financially impacting diseases.
---
PRRS, PED, PCV2 i SIV: jak możemy poprawić nasze wsparcie dla hodowców trzody chlewnej?
Globalizacja, zwiększone przemieszczanie się ludzi, świń, surowców oraz żywności stanowi coraz większe zagrożenie dla hodowli trzody chlewnej. Nie ma jednej skutecznej strategii zwalczania wszystkich chorób wirusowych i nowo pojawiających się. Mamy jednak wiele odpowiedzi oraz rozwiązań, które można przedstawić w formie dziewięciu zasad "nienegocjowalnych", dlatego lekarze weterynarii, hodowcy, diagności oraz naukowcy starają się obiektywnie poszerzyć naszą wiedzę, a następnie ją przekazać całej branży w ramach sieci współpracy, która zapewni lepsze zwalczanie lub nawet umożliwi wyeliminowanie chorób o poważnych konsekwencjach ekonomicznych.